Your Financial Support Maintains Your Voice on Critical Unemployment & Workers' Compensation Policy Issues.  For federal income tax purposes, 95% of UWC membership dues are deductible as a business expense, not as a charitable contribution.  The UWC FEDERAL TAX ID #53-0190507. Click the button below to pay your membership dues.
Credit Card Payments:
We accept credit card payments online by clicking the pay now button below. When prompted for the amount you wish to pay please enter the dollar amount indicated on the invoice you received.
When prompted, please enter your CVV number to complete your transaction. Your CVV number can be located by looking on your credit or debit card, as illustrated in the image below. The CVV number is located on  back of the card for Diners Club, Discover, JCB, Mastercard and Visa. The CVV number is located on the front of the card above the credit card number for American Express.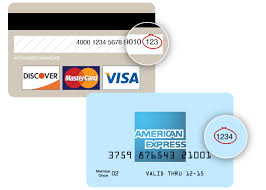 Other Payment Options:
We also accept payment through ACH, if you prefer to pay by check, please mail checks to:
UWC, Inc.
P.O. Box 1110
Worthington, OH  43085
Questions:
For more information contact Doug Holmes at (614) 805-2208.